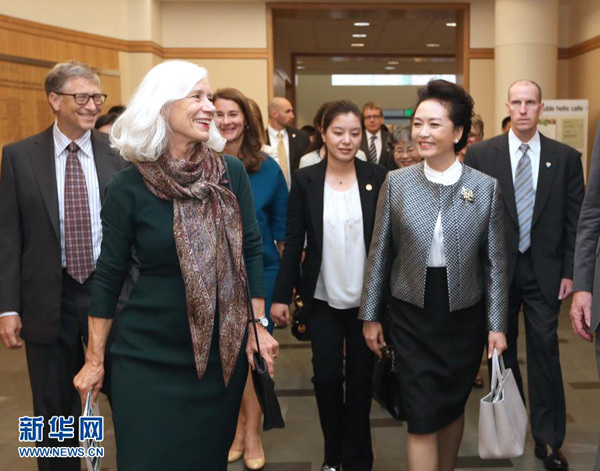 Peng Liyuan (R, Front), wife of Chinese President Xi Jinping, visits the Fred Hutchinson Cancer Research Center in Seattle, the United States, Sept. 23, 2015. (Photo: Xinhua/Ma Zhancheng)
An advocate for prevention and treatment of HIV/AIDS as well as tobacco control, first lady Peng Liyuan made her first appearance during President Xi Jinping's state visit to the United States by exploring cutting-edge medical research addressing these health issues at an institute in Seattle. [Special coverage]
During a tour of the Fred Hutchinson Cancer Research Center on Wednesday, Peng said she hoped that health workers from China and the U.S. will share advanced technologies and ideas.
"My experience of being the World Health Organization goodwill ambassador for preventing and treating tuberculosis and HIV/AIDS has helped me understand more profoundly the importance of strengthening international cooperation on health," she said.
During the tour, she met with Gary Gilliland, president and director of the center; Bill Gates and his wife, Melinda, co-chairs of the Bill & Melinda Gates Foundation.
She visited the center's lab, which is researching the development of an HIV vaccine, and was informed about a smartphone application that the center's researchers developed to help people quit smoking. "In my own family there are some smokers, and I hope they can find better ways to quit," the center quoted Peng, an ambassador for the Chinese Association on Tobacco Control, as saying.
Opened in 1975, the Fred Hutchinson Cancer Research Center has been devoted to research in preventing and treating illnesses such as cancer and HIV/AIDS. The Bill & Melinda Gates Foundation is one of its major donors.
Peng said she appreciated that the center and the foundation have been working to enhance health cooperation between China and the U.S., and she encouraged them, as well as their Chinese counterparts, to keep working together to address major global public health challenges. Peng has been advocating for prevention and treatment of HIV/AIDS for almost a decade.
Shi Yinhong, professor at the School of International Studies of Renmin University, said the visit to the medical institute shows that Peng is raising awareness and helping boost China's soft power by participating in activities traditionally associated globally with the role of a first lady.