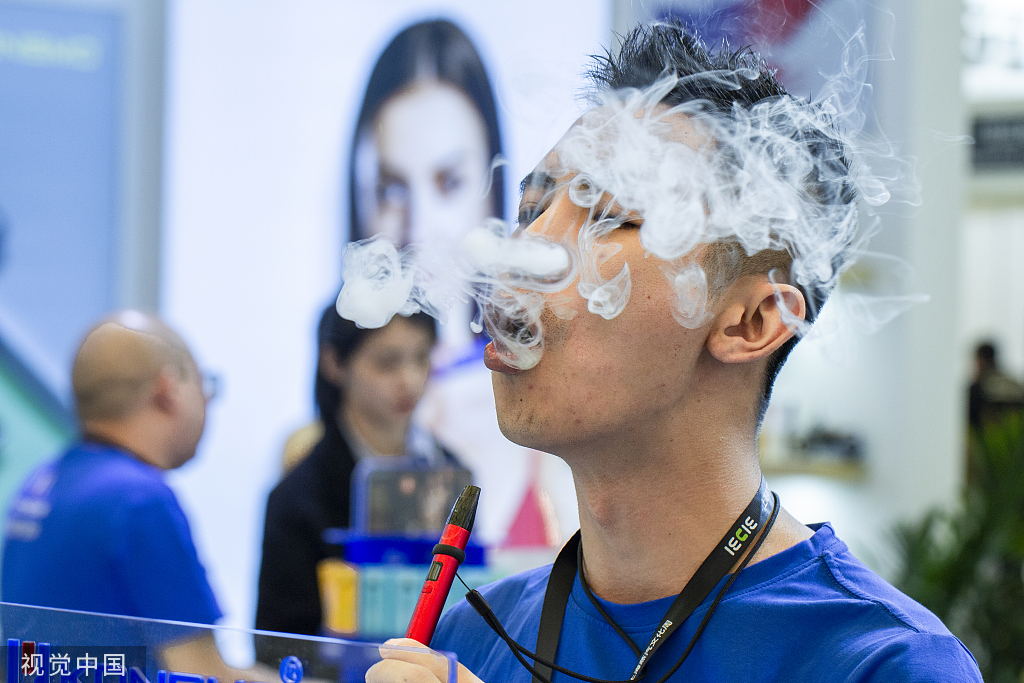 Aman smokes e-cigarette in Shanghai in October. [Photo/VCG]
The National Health Commission has called for the smoking of electronic cigarettes to be banned in public spaces, including train stations and shopping malls, as part of local tobacco control regulations.
The call was made in a notice released by the commission and seven other government bodies on Thursday aimed at curbing and regulating tobacco use among children and teenagers.
The commission said more promotion efforts should be devoted to educating minors about the harmful and addictive effects of vaping, and e-cigarettes should not be promoted as a method to help wean smokers off their habits.
Research from the Chinese Center for Disease Prevention and Control shows that about 1.5 percent of people aged 15 to 24 have vaped — the highest among all age groups.
The sale of traditional tobacco products to minors has long been banned, along with tobacco advertising aimed at young people. But the sale of e-cigarettes to minors was only banned in August last year.
On Friday, the State Tobacco Monopoly Administration and the State Administration for Market Regulation banned online sales and advertising of e-cigarettes. They said the ban was primarily aimed at protecting young people from accessing vaping products online.
In the notice released on Thursday, the commission also called for tougher oversight of scenes in television dramas and films that involve unnecessary smoking behavior.
The use of tobacco products by minors will take a heavy toll on the overall health of teenagers, especially their respiratory and cardiovascular systems, the commission said.
Research has shown that the earlier a person starts smoking, the more tobacco they will consume when reaching adulthood. The commission said that meant it was crucial to step up oversight of tobacco use among minors.
China aims to reduce the rate of smoking among people aged 15 and above to 20 percent by 2030, down from about 26 percent at present.