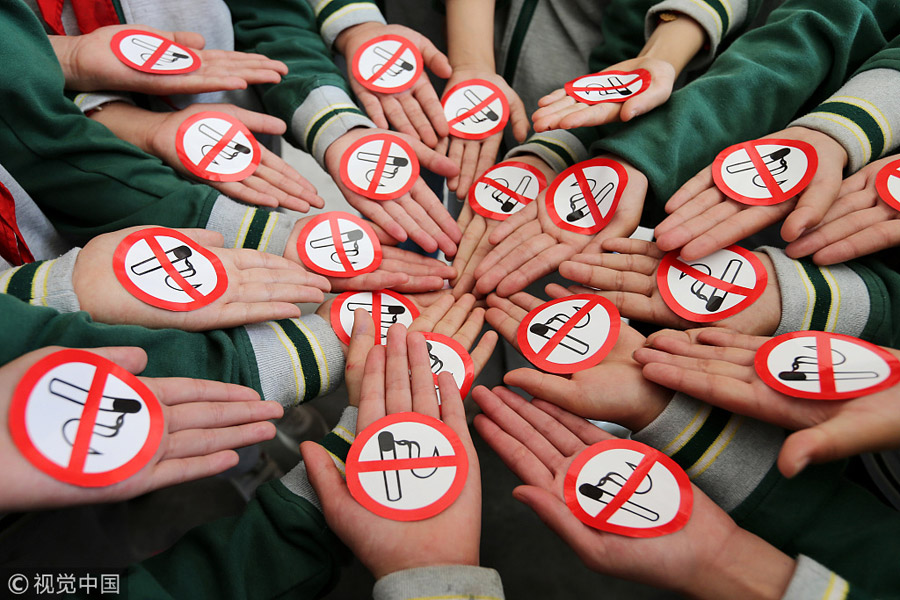 Students hold "no smoking" signs to promote No Tobacco Day at Chaoyang Primary School in Huaibei, Anhui province, May 30, 2018. [Photo/VCG]
China has about 10 million e-cigarette users who are aged 15 and above, and among them, 45.4 percent obtained the vaping products through the internet, a researcher said during an online interview on Monday
Xiao Lin, a researcher at the Chinese Center for Disease Control and Prevention, said during a program focusing on e-cigarette threats on the National Health Commission official website that most users are young people aged between 15 and 24.
The main component of e-cigarettes is nicotine, an addictive substance, excessive intake of which may be life-threatening, said Wang Kean, former president of the Chinese Academy of Preventive Medicine, during the online interview program.
The aerosol released by e-cigarettes has many components known to be harmful carcinogens, Wang said. To attract users, additives and flavorings are added into the liquid, and produce harmful substances after heating, he said.
Li Yong, a doctor from the Cancer Hospital under the Chinese Academy of Medical Sciences, said although nicotine itself does not cause cancer, it may play the role of "tumor inducer", and may participate in the biological process of malignant diseases and neuro-degeneration.
Contact with nicotine may cause long-term adverse effects on brain development in unborn children and to adolescents, and may lead to learning and anxiety disorders, Li said.
The electronic nicotine delivery system (e-cigarette) may increase the chance of getting chronic obstructive pulmonary disease, lung cancer and cardiovascular disease, as well as smoking-related diseases, according to the World Health Organization.
It is wrong and absurd for some people to use an e-cigarette as a substitute for quitting smoking, and e-cigarettes worsen nicotine addiction, said Hu Dayi, president of the Chinese Association on Tobacco Control.
Xiao said no scientific evidence proves that e-cigarettes can help people to stop smoking, and the WTO does not recommend e-cigarettes as a tool in smoking cessation.
On Friday, the State Administration for Market Regulation and the State Tobacco Monopoly Administration jointly issued a document aimed at strengthening the management of e-cigarettes to better protect minors.
The document called for e-cigarette producers to shut down internet sales channels and withdraw online advertisements for e-cigarettes. The e-commerce platforms were urged to stop selling e-cigarettes online due to the high health risks posed by e-cigarettes and the vulnerability of minors.