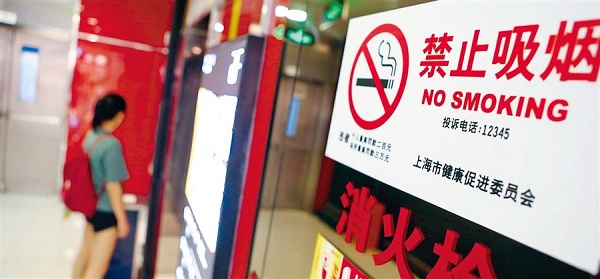 The Printemps Department Store on Changshou Road, Putuo, yesterday makes clear the no-smoking policy. (Jiang Xiaowei)
There is good and bad news on Shanghai's new sweeping ban on smoking that came into effect on March 1.
Smoking was found in 31 percent fewer indoor public places after the ban was introduced, the city's Health Promotion Commission said in a report released yesterday — which was also World No Tobacco Day.
Restaurants and entertainment venues remained the places where illegal smoking most frequently took place, the report said.
In April, evidence of smoking was found in 21 percent of indoor public places, down from 36 percent at the end of last year.
Smokers were discovered at about 28 percent of restaurants investigated and at 30 percent of entertainment venues. The numbers, however, were down from 51 and 50 percent respectively at the end of last year.
Other places where smokers are more likely to be found included public transport areas, factories, multiple-story buildings and hotels.
The report said that staff and law enforcers were trying to stop illegal smoking at more indoor public places than was the case last year, with public cultural sites, government institutions, restaurants and hospitals topping their list.
While almost all indoor public places have been cleared of indoor smoking rooms, cigarette butts are more often found at entertainment venues, restaurants, airports, long-distance bus stations, multiple-story buildings and factories, according to the report.
In March and April, 133 illegal smokers and 476 venues where illegal smoking was found were fined 1.13 million yuan ($165,000) for breaking the law, the report said.
Some residents told Shanghai Daily that people still often smoke on elevators in residential buildings and in public places in office buildings.
Alicia Zhang, who works in an office building located at Yuanshen Road and Pudian Road in Pudong, said she still suffers from secondary smoking caused by cigar smokers in the office next door.
She added that the smell of cigarettes often lingers in the public washrooms.
"I once called 12345 to complain about it, and the law enforcers came after two days, but no smokers were in sight when they were here."
The report has some alarming figures in terms of illegal smoking in stairwells and waiting areas in front of elevators in multiple-story buildings.
In April, the percentage of stairwells in those buildings where smoking instances were discovered rose to 10.4 percent from 7.8 percent at the end of last year. While in 7.8 percent of buildings surveyed, people were spotted smoking while waiting for elevators at about the same level as at the end of last year, the report showed.