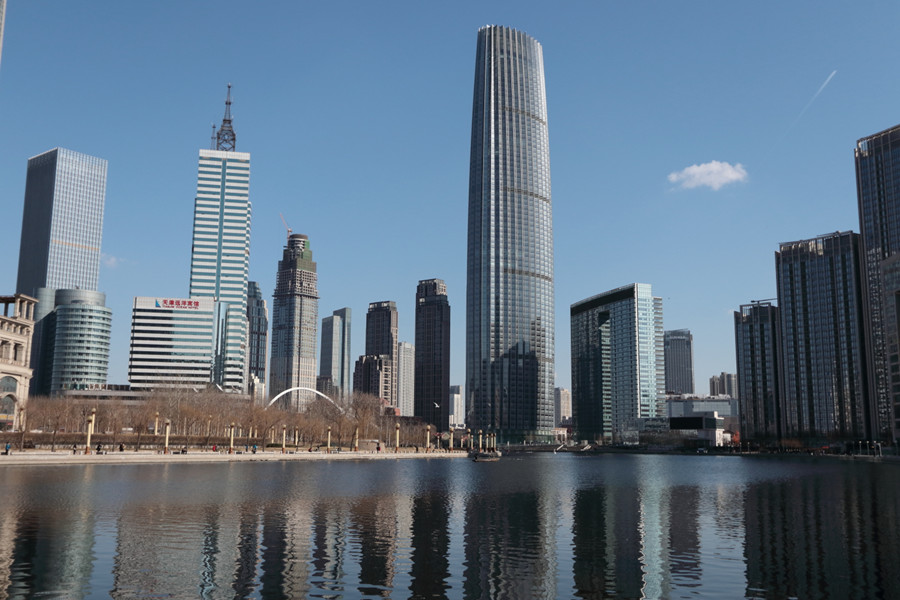 Central Tianjin and Haihe River, 2017. [Photo by Bruce Connolly/chinadaily.com.cn]
The Haihe River, flowing through central Tianjin, has long been a key element in the city's historic and in-creasingly rapid contemporary development. A walk along its landscaped banks illustrates how this North China Municipality has shaken off much of an earlier industrial legacy while transforming itself into a mod-ern attractive metropolis, attracting large numbers of visitors - as witnessed by the flotilla of tourist boats cruising the river night and day!
On my most recent visit, a 20th floor hotel room provided not only panoramic views of the city's increasingly futuristic skyline but also looked down on the Haihe at its junction with the Grand Canal - an intersection making Tianjin historically into one of the country's premier ports. Water has always been at the core - maps show how much of the urban and surrounding area remains crisscrossed by a maze of waterways; of how lakes provide beauty to the urban zones and how the river connects with the Bohai Sea. 'Tianjin' literally translates as 'Heavenly Ford' - until 1404 known as Zhiqu ('Straight Port') but renamed by Emperor Yongle after he legendary forded its waters.

Throughout China's history, goods and people were often transported by water. Tianjin was the port for landlocked Beijing. Boats arriving at Tanggu transferred cargo to barges for onward movement by canal to Tongzhou and ultimately to the capital's waterways. The Grand Canal, dating back to 7th century Sui Dynasty, allowed food, rice, grains, fruit to be carried from the fertile lands of the Yangtze Delta northwards across the Yellow River.
Today, the canal boats are gone and Tianjin is now a major junction on China's extensive rail network where lines from the northeast merge with key north-south routes. Bullet trains put it within 35 minutes of Beijing.
It was fascinating looking at the waterways where riverside buildings and many elegant bridges are vividly illuminated at night, but also beyond to futuristic architecture including the 336.9 metre high Tianjin Tower World Financial Centre - symbols of modern functionality and dynamism contrasting with my first visit 22 years previously. Then Tianjin was just at the start of its transformation when I was introduced to Tianjin Economic-Technological Development Area (TEDA) and the Binhai New Area - zones that would ultimately focus on advanced industry, aviation, finance and innovation. A vast new port was being constructed. In 1996, still in its infancy, the ultimate goal was to create a powerhouse for northern China, just as Shanghai's Pudong and Guangdong's Shenzhen were doing further south. Ultimately, Tianjin would emerge as a 'Dual Core City'; although, the Old City centered around the Haihe managed a transformation combining modernity whilst retaining much of its legacy, making it such a fascinating area to explore. Most of my time and passion has been spent within Older Tianjin.

A few minutes' walk from my hotel rose a 120 metre high 'Tianjin Eye', the Yongle Bridge Ferris Wheel. In contrast the Dabei Monastery, dating from the Ming Dynasty, provided as always a peaceful retreat from the modern world, although the view has somewhat changed from earlier days when no high-rise buildings rose above its tile-topped walls. Near the canal/river junction restored the Gulou Bell Tower and its surrounding pedestrianized streets modeled on Qing Dynasty style are reminders that Tianjin historically was a compact, walled city guarding a strategic corridor between the sea and Beijing. Bordering the Haihe, an 'Ancient Cultural Street' (Guwenhua Jie) centres on the Niangniang Palace, dating from 1326, honoring sea-goddess Mazu in the hope for safe navigation.

Tianjin is a city of bridges. The 90 year old Jiefang Bridge has become something of an iconic symbol for the city. The 96.7 metre long double-leaf bascule drawbridge crosses the river south of Century Clock Square and Tianjin Railway Station. It initially connected the French concession with the Italian area north of the river. Concession territories were ceded by the Qing Dynasty ultimately to nine foreign countries starting from 1860. Similar to Shanghai, but on a smaller scale, this resulted in many western-style buildings including homes and schools going up in several areas close to the river. The concessions ulti-mately faded away between the early and middle 20th century. However, rather than remove the buildings many have been retained, carefully maintained and today are an important element of the city's fabric. One kilometer west of the railway station, created out of the former Italian Concession, the 'Italian Style Town' centers on the Marco Polo Square. Buildings are home to many restaurants offering pizzas, bars, shops and museums - an area to enjoy warm summer nights.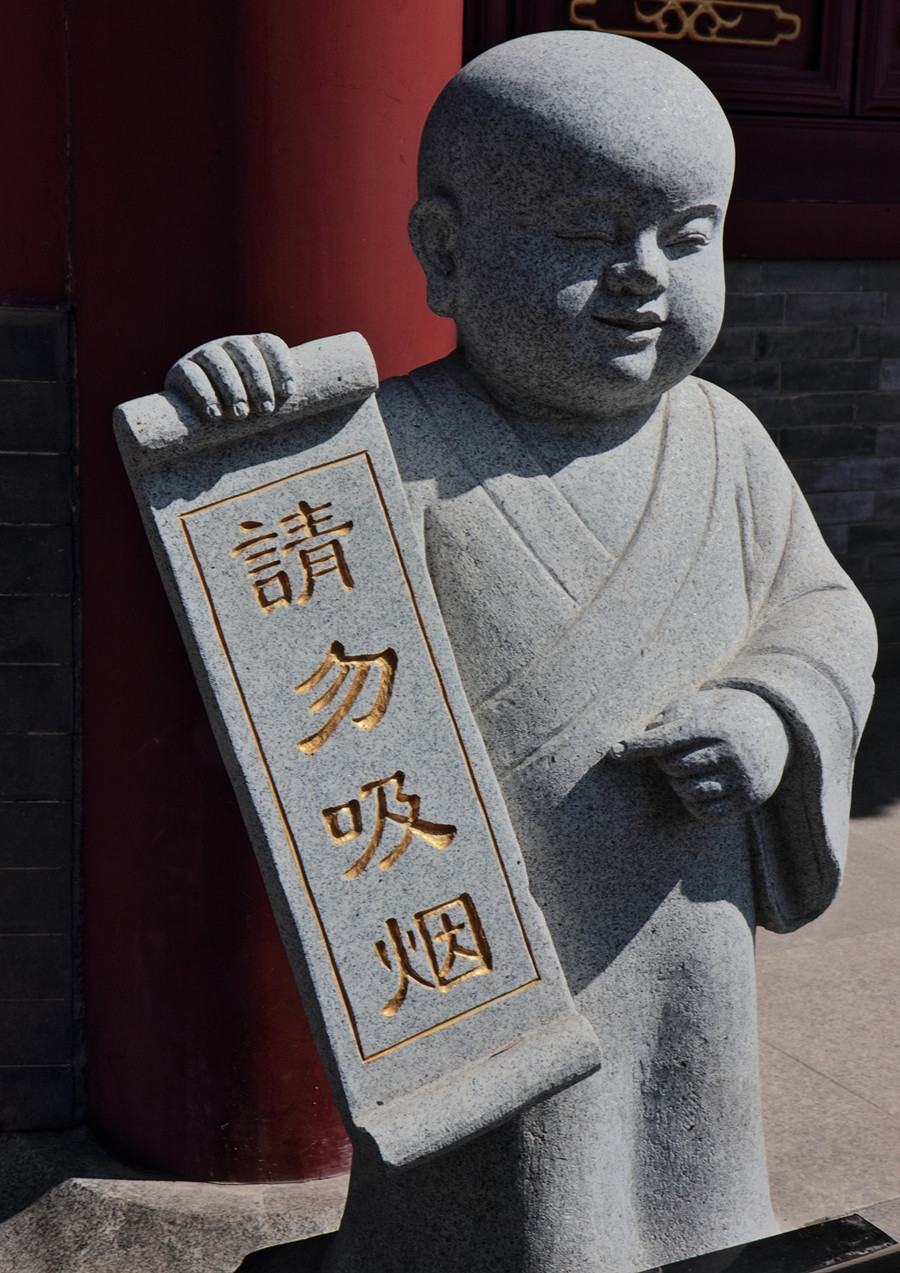 'No Smoking' Dabeiyuan Temple, 2017. [Photo by Bruce Connolly/chinadaily.com.cn]
Within a tree-shaded park opposite The Astor, locals create music, dance and sing. There I was asked where I came from - "Scotland" - "Ah, we all respected the 'Flying Scotsman', Lideer." Scot Eric Liddel, born in Tianjin 16 January 1902, won the 400 meter race at the 1924 Paris Olympics. He returned to Tianjin in 1925, where his devotion remained, sadly passing away within the Japanese civilian internment camp at Weihsien (Weifang Shandong) on 21 February, 1945. (Films - 'Chariots of Fire' 1981/'On Wings of Eagle' 2017).